By MATT AGORIST
As Americans, even those who previously despised him, rally behind President Donald Trump's bombardment of
Syria,
they are failing to realize the atrocious lies, half truths and controversy surrounding the United States' history with Syria as well as the creation and support of Islamist extremism.
While there has yet to be definitive proof of the recent alleged sarin gas attack in
Syria,
if one looks at the known disinformation as well as what top experts in the field are saying, it can be deduced that the US government is, at the very minimum, not being entirely truthful with its people.
If one goes even further down the rabbit hole, believing the government's official position on Syria becomes absolutely asinine.
Below is a list of five different stories that should make you question everything the United States has told you about
Syria.
1. Just Before the Strike, Politifact Retracted 'Mostly True' Ruling on No Chemical Weapons in Syria
Just before Trump sent 59 Tomahawk missiles hurling into the Syrian airbase, Politifact retracted a story it published in 2014 titled, "Kerry: We got '100 percent' of chemical weapons out of Syria." John Kerry, then Secretary of State, told NBC's Meet The Press on July 20th, 2014, "we struck a deal where we got 100 percent of the chemical weapons out."
Upon learning of Kerry's claim, Politifact investigated, even asking the State Department for more information. The department pointed Politifact to Ahmet Üzümcü, director general of the Organization for the Prohibition of Chemical Weapons, who said in a statement, "The last of the remaining chemicals identified for removal from Syria were loaded this afternoon aboard the Danish ship Ark Futura." Fast-forward three years, and we now know that statement cannot possibly still be true — or at least not very helpful to the official narrative. After it was alleged that Bashar al Asad's government used chemical weapons against innocents this week, Politifact withdrew its article from its site.
2. Award-winning Journalist Says Hillary Approved Sending Sarin to Rebels Used to Frame Assad, Start Syrian War
World-renowned journalist Seymour Hersh has revealed, in a series of interviews and books, that the Obama Administration falsely blamed the government of Syria's Bashar al-Assad for the sarin gas attack that Obama was trying to use as an excuse to invade Syria.
As Eric Zuesse explained in Strategic Culture, Hersh pointed to a report from British intelligence saying that the sarin that was used didn't come from Assad's stockpiles. Hersh also said that a secret agreement in 2012 was reached between the Obama Administration and the leaders of Turkey, Saudi Arabia, and Qatar, to set up a sarin gas attack and blame it on Assad so that the US could invade and overthrow Assad.
By the terms of the agreement, funding came from Turkey, as well as Saudi Arabia and Qatar; the CIA, with the support of MI6, was responsible for getting arms from Gaddafi's arsenals into Syria.
Hersh didn't say whether these 'arms' included the precursor chemicals for making sarin which were stockpiled in Libya, explains Zuesse in his report. But there have been multiple independent reports that Libya's Gaddafi possessed such stockpiles, and also that the US Consulate in Benghazi Libya was operating a "rat line" for Gaddafi's captured weapons into Syria through Turkey.
While Hersh didn't specifically say 'Clinton transported the gas,' he implicated her directly in this 'rat line' of arms which the sarin gas was part of.
Of Hillary Clinton's involvement, Hersh told AlterNet that Ambassador Christopher Stevens, who died in the storming of the Benghazi embassy,
The only thing we know is that she was very close to Petraeus who was the CIA director at the time … she's not out of the loop, she knows when there's covert ops. That ambassador who was killed, he was known as a guy, from what I understand, as somebody, who would not get in the way of the CIA. As I wrote, on the day of the mission he was meeting with the CIA base chief and the shipping company. He was certainly involved, aware and witting of everything that was going on. And there's no way somebody in that sensitive of a position is not talking to the boss, by some channel.
3. Putin Revealed ISIS, the Ostensible Enemy of the US in Syria, is Funded by 40 Countries, Including G20 Members
Russian President Vladimir Putin announced in 2015, that he has shared intelligence with the other G20 member states, which reveals the 40 countries from which ISIS finances the majority of their terrorist activities. The list reportedly included a number of G20 countries.
"I provided examples based on our data on the financing of different Islamic State (IS, formerly ISIS/ISIL) units by private individuals. This money, as we have established, comes from 40 countries and, there are some of the G20 members among them," Putin told reporters in 2015.
4. 2 Years After an American Journalist Was Killed, Her 'Conspiracy Theories' on Syria were Proven as Facts
Serena Shim is an American citizen of Lebanese descent who was born near Detroit. Shim worked for Iranian broadcaster Press TV as a foreign correspondent covering wars, legitimate protests and fake uprisings in multiple countries. She reported live from Syria, Iraq, Turkey, and Lebanon during the conflict since 2011, including in the critical region of Daraa during the beginning of protests, which are misrepresented by American media as the reasons for the fake civil war.
Serena Shim was killed two years ago on October 19, 2014, in Turkey while reporting on the intense battle for the Syrian border city of Kobani which was the focus of international media attention. She was 29 when she died.
It is claimed she was killed in a car accident with a cement truck. However, physical details about the case raise questions about the official explanation by Turkish officials. There are also conflicting stories about the timeline after her death and before the family received her body, which indicate actions by the government of Turkey and possibly the United States.
5. Declassified CIA Doc Reveals Plan to Destroy Syria for Oil Pipeline, Predicts Current Crisis
Last, but certainly not least, is the fact that the CIA's own documents which have recently been declassified, show the United States' intentions to disrupt Syria for oil interests — since at least 1983.
"Bringing Real Muscle to Bear Against Syria," is the title of an assessment from former CIA officer Graham Fuller which actuality discusses Syria under Assad's predecessor — his father, Hafez al-Assad — and is dated September 14, 1983, amid the Iran-Iraq War.
Fuller's analysis, points out Activist Post's Brandon Turbeville, evinces Assad as a nuisance hindering American empire's lust to control vast fossil fuel stores and protect ally, Israel, against multiple threats in the Middle East. Destabilization of Iraq and Iran also features prominently in the intricate U.S. plan to deal with the irritant, elder Assad — who, incidentally, recognized Western ulterior motives for what they were.
As the six-page document continues, Syria continues to maintain a hammerlock on two key U.S. interests in the Middle East: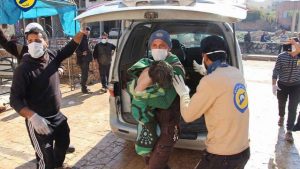 Syrian refusal to withdraw its troops from Lebanon ensures Israeli occupation in the south;
Syrian closure of the Iraqi pipeline has been a key factor in bringing Iraq to its financial knees, impelling it towards dangerous internationalization of the war in the Gulf.
Diplomatic initiatives to date have had little effect on Assad who has so far correctly calculated the play of forces in the area and concluded that they are only weakly arrayed against him. If the U.S. is to rein in Syria's spoiling role, it can only do so through the exertion of real muscle which will pose a vital threat to Assad's position and power.
There you have it. Now you can see how utterly preposterous this dangerous and deadly game the United States is playing in the Middle East. It's time we demand Hands Off Syria — before it's too late.