In a stunning report last week The New York Times admitted what more and more Americans had come to suspect: That the Obama administration launched a counterintelligence operation against the 2016 Trump campaign that included the cultivation of 'spies' within the organization.
The report, which claimed in its headline that the spies were really "informants," based its characterization on the premise that the underlying counterintelligence investigation was based on actual evidence that members of the Trump campaign were in cahoots with a foreign government — Russia — to undermine the American political process.
There is no evidence any of that is true or was ever true. In fact, House Intelligence Committee chairman Devin Nunes, R-Calif., has said as much.
In April, in an interview with Fox Business host Maria Bartiromo, Nunes said that the FBI and Justice Department launched their operation against Team Trump without any actionable intelligence — a requirement to open a counterintelligence operation that includes spying on American citizens.
"This is really important to us because the intelligence investigation uses the tools of our intelligence services that are not supposed to be used on American citizens," Nunes said.
"So, we've long wanted to know what intelligence did you have that actually led to this investigation. So what we found now after the investigators have reviewed it is, in fact, there was no intelligence," he added.
Now, in a separate interview with Bartiromo earlier this month, Nunes discussed a recent report that the person widely believed to have cultivated the sources within the Trump campaign — longtime Republican operative and Cambridge University Prof. Stefan Halper — was very handsomely paid for work with the U.S. in 2016 and 2017 in the amount of $411,575, according to The Gateway Pundit.
If it's true that he was the spy working to infiltrate the Trump campaign organization — and the FBI paid him to do that based on a fabricated national security/counterintelligence investigation — then "it's over," Nunes told Bartiromo.
"If any of that is true, if they ran a spy ring or an informant ring and they were paying people within the Trump campaign, if any of that is true that is an absolute red line," he said.
"There's not an honest person in this country who could believe that taxpayer dollars going to fund this ring and operate like this what is said in The New York Times that has quite a bit of detail on it, if any of that is true it's a red line in this country.
"You can't do this to political campaigns," he continued. "According to them, this was done in the spring before the counterintelligence was even open. If that's true, we need to know about it… If they paid someone it's an absolute red line and this is over with."
Nunes isn't the only one concerned about the chilling effect this egregious abuse of power has had on the Trump campaign and future political campaigns.
Writing for The Hill, Mark Penn, who served as a pollster and political adviser to President Bill Clinton from 1995-2000, including during his impeachment, deeply criticized the ongoing limitless investigation by special counsel Robert Mueller, adding that the effect it will have on future campaigns will be irreparable if it isn't curtailed.
Watch:
"Stopping Mueller isn't about one President or one party. It's about all presidents and all parties. It's about cleaning out and reforming the deep state so that our intelligence operations are never used against opposing campaigns without the firmest of evidence," he wrote. "It's about letting people work for campaigns and administrations without needing legal defense funds. It's about relying on our elections to decide our differences."
Two questions emerged this week following revelations that the Deep State under President Obama inserted at least one, and possibly as many as seven, 'spies' into the 2016 campaign of Donald Trump:
What did Obama know about the operation? And when did he know it? Offensive counterintelligence which was completely illegal.
Those two questions were first asked by Sen. Howard Baker, the lead Republican on the committee investigating the Nixon-era Watergate scandal.
It is as appropriate now for people to ask those questions of Obama as it was for Baker to ask them then — and perhaps even more so, because it looks as though the burgeoning "Spygate" scandal is going to be magnitudes of order larger than Watergate.
Pundits on the Left have tried to assure us that there's no way Obama was in on anything because, you know, he was simply too virtuous to be caught up in something so sleazy and improper.
But Ari Fleischer, George W. Bush's one-time spokesman, says Obama was up to his eyeballs in the scandal and even ordered the spying in the first place.
Fleischer made his bombshell claims on Fox News' noon-time news program "Outnumbered," according to investigative reporter Paul Sperry, who tweeted it.
"BREAKING: Bush press secretary Ari Fleischer said "I guarantee the answer is yes" to whether Obama knew Halper & others were deployed to spy on Trump campaign. Fleischer explained that "no FBI director would put informants inside a presidential campaign w/o the prez authorizing it," Sperry wrote.
Paul Sperry@paulsperry_
BREAKING: Bush press secretary Ari Fleischer said "I guarantee the answer is yes" to whether Obama knew Halper & others were deployed to spy on Trump campaign. Fleischer explained that NO FBI director would put informants inside a presidential campaign w/o the prez authorizing it
9:40 AM – May 24, 2018
6,368
3,920 people are talking about this
Fleischer would know this because he knows how administrations work. He knows that a president would never allow himself to be blindsided by something as major as spying on a rival political campaign — under the phony guise of "Russian collusion."
Counterintelligence FBI
So this would mean that Obama knew about everything — including the phony Russia "dossier" that Hillary Clinton's campaign paid for, what was actually said at the now-infamous "Phoenix airport meeting" between former President Bill Clinton and Obama's attorney general, Loretta Lynch.
There were earlier indicators as well that Obama was well aware of the operation to ensnare or trip-up Trump.
Counterintelligence exists to inform the president…
As The National Sentinel reminded readers:
Remember that text exchange between FBI counterintelligence No. 2 Peter Strzok and former FBI lawyer Lisa Page, his lover?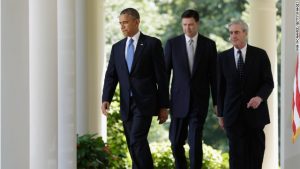 In a Sept. 2, 2016, text to Strzok about preparing talking points for then-FBI Director James Comey to give to President Obama, Page said it was important to do so because "potus wants to know everything we're doing."
"POTUS," of course, is the acronym for "president of the United States."
In a February column, former federal counterintelligence prosecutor Andrew McCarthy explained that Page's text wasn't some "bombshell revelation," at least to those familiar with how presidential administrations function.
Recall that the operation launched by the Obama administration involving the Trump campaign was a counterintelligence probe. McCarthy notes, "Counterintelligence is an information-gathering exercise undertaken for one purpose and one purpose alone: to inform the president, through his subordinate intelligence officials, of information about threats to, and opportunities to advance, American interests."
Obama was being kept in the loop as a matter of normal operations. So to believe he was ever on the outside looking in, learning about these revelations "from news reports" as he was so fond of saying, is about as irrational as it gets.
"The president is never supposed to resist 'interference' in counterintelligence. To the contrary, informing the president is the reason the FBI has a counterintelligence mission," McCarthy explained. "Indeed, the information derived from counterintelligence operations is often included in the president's daily intelligence briefing."
By the same token, he noted further, it's absurd to suggest that Trump's involvement in the Russian probe could ever amount to "obstruction" — they exist to inform the president.
What makes Fleischer's comments on Thursday newsworthy is the fact that — finally — questions about what Obama knew and when did he know it are being answered.